If not, fill up on our binge-worthy Fruit Smoothie Collection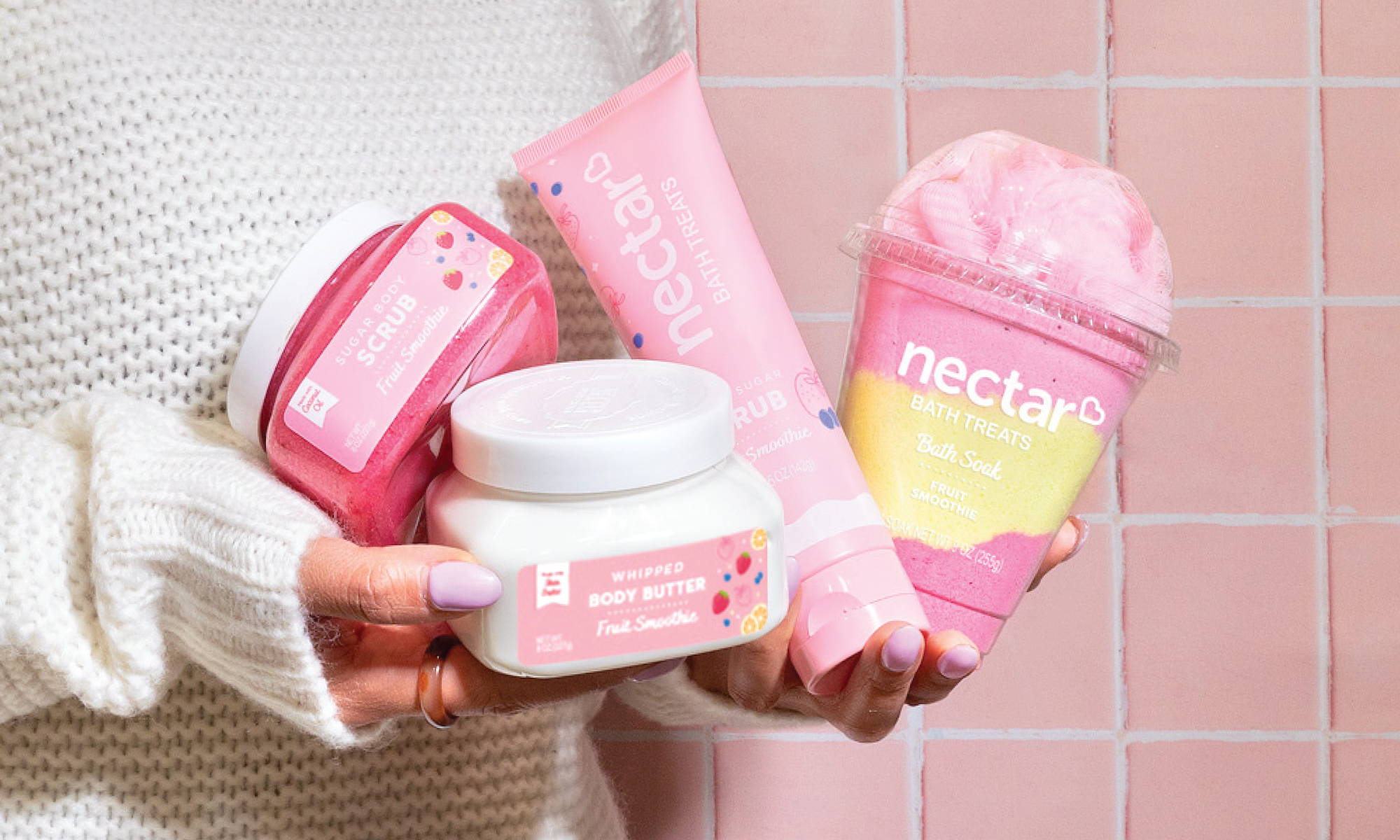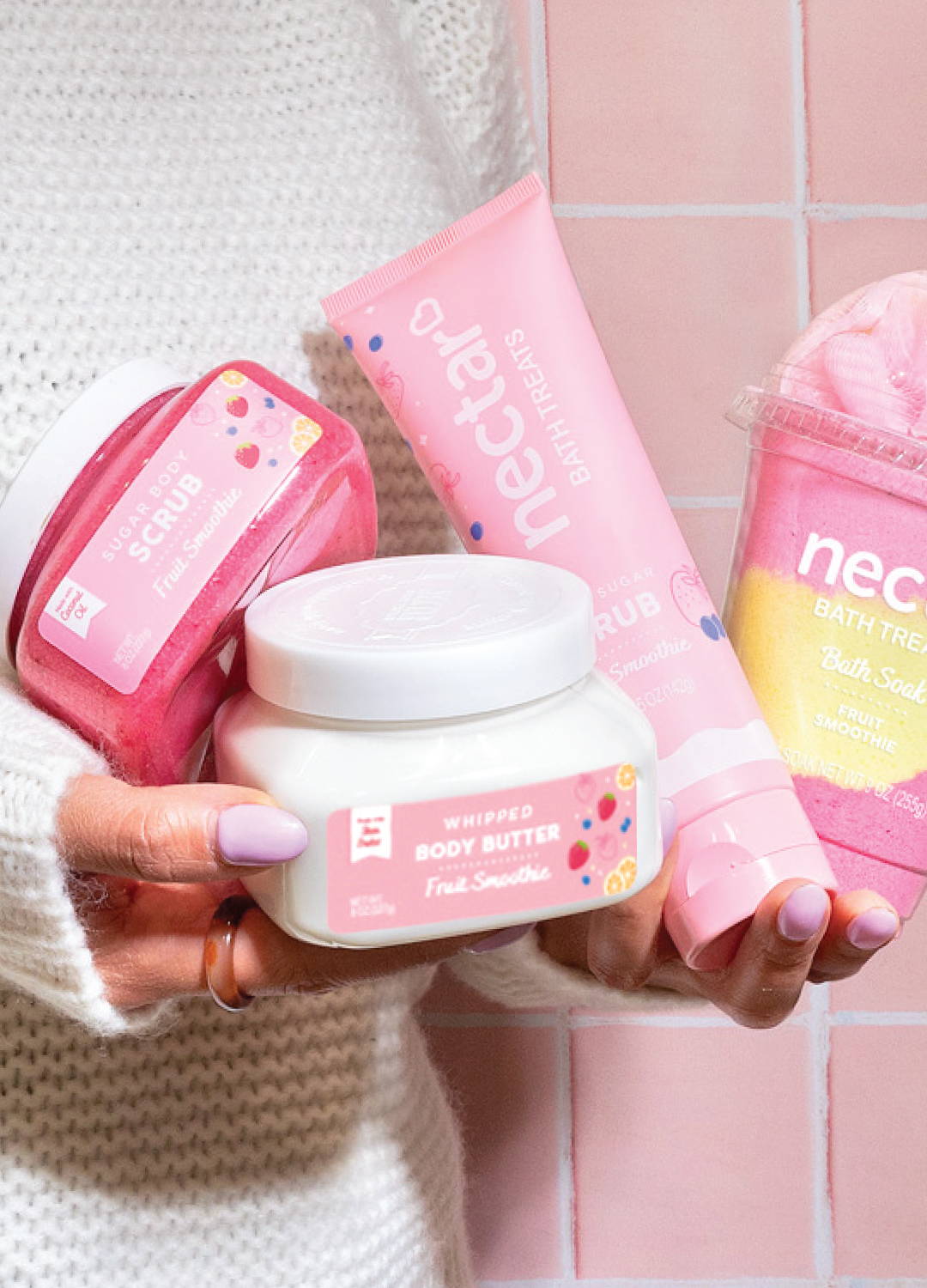 We just launched our full Signature Fruit Smoothie Collection over the weekend! If you missed it, check out the whole collection here!
Fruit Smoothie is our most popular scent! Our customers have been obsessing over our one of a kind Signature Fruit Smoothie treats, so we knew it was time for even more of a good thing and we crafted Fruit Smoothie into our favorite bath treats! The newest Signature Fruit Smoothie treats include our iconic Milkshake Bath Soak, a dreamy, fruity, fizzy Waffle Bath Bomb, and our delectable Bubble Scoops bath treat. That's right! Three amazing new sweet treats in your favorite Nectar Collection.
Our Fruit Smoothie scent is the perfect balance of strawberry, tangerine, peach and 100% pure bliss. This fruity blend will leave you smiling from ear to ear! Breathe in this delightful, summer-y sensation and transport yourself to the beach anytime of year with our undeniably uplifting Fruit Smoothie goodies. Quite simply, this collection is pure joy and best-self feels!
Dare to share this treat? We do! It's the perfect, unique gift for any reason. But don't take our word for it, let's fill up on Fruit Smoothie so you can see for yourself!
Does your self-care routine bring a smile to your face? Happiness is the number one ingredient to looking and feeling your best. So all of Nectar's handmade confections start with a smile. With the Signature Fruit Smoothie Collection, self care doesn't have to be self serious! Transform your skin care regime with the simple, satisfying, memory-making delights of a Signature Fruit Smoothie routine.
Spark Joy!
First things first, set the moment with our Signature Fruit Smoothie Candle. Trim that wick and it's time to get lit! As you move through your new routine, the candle will set a blissful, uplifting Fruit Smoothie ambience.
Tub Time treats!
It all starts in the tub! Indulge yourself with one of three treats:
Our fizzy, foamy, frothy Fruit Smoothie Waffle Bath Bomb
Our brilliant, bubbling Fruit Smoothie Bubble Scoops
Or the most luxurious obsession-worthy Fruit Smoothie Milkshake Bath Soak!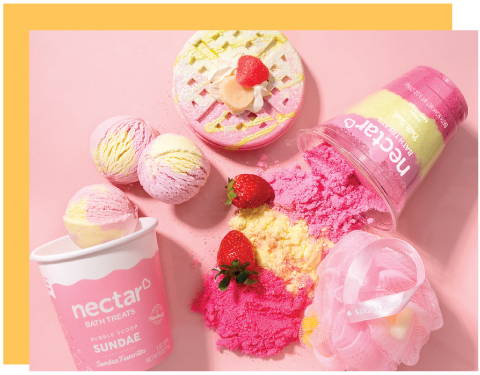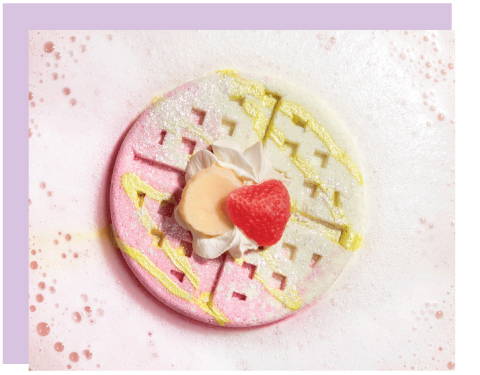 Don't waffle…Let's draw a bath.
Once the tub is full of warm water, drop a Fruit Smoothie Waffle bath bomb in and watch it foam! Lather up with the strawberry and whipped cream soap treat that comes on top for the fruitiest Fruit Smoothie bathing experience. And smile. It'll be hard not to, so just let it happen!
Feeling bubbly instead? We love a great bubble bath too. For the bubbliest bath treat, as you fill the tub hold your Fruit Smoothie Bubble Scoop under the running water and gently massage it. Take your time and run your fingers back and forth gently going over the scoop for maximum bubbles! Once the tub is full and you've got the bubbles filled to your liking, step in, sit back, and savor those suds!
Soothe, nourish and indulge with a Milkshake Bath Soak. Hot tip! You can enjoy our Milkshake in the bath or in the shower. For a bath, fill the tub to your liking. Then use the measuring cup that came in the container and scoop one full scoop of bath soak into your tub. If you're in the shower, sprinkle the soap into your hand, add water, and use the frothy, smooth, milky mixture as your body wash! That's how you elevate your shower to Fruit Smoothie bliss!
No matter which bathing experience you start with, be sure to take time to enjoy the fresh fruity scent that fills your bathroom and senses!
Now that you're in the tub, enjoying the best of our Fruit Smoothie bath treats, let's add a few more ways to use the entire Signature Fruit Smoothie Collection to enhance your bathing experience!
Grab your Fruit Smoothie Loofah and reward yourself with a two-in-one treat! This treat has a body soap base and loofah on top. The joyful little cupcake will bring a smile to your face and a Fruit Smoothie scent to your body! Gently wet the soap and allow the loofah to build up a luxurious lather. Then softly spread those suds around!
Polish up with our must-have scrubs!
Now it's time to exfoliate! Get your sugar scrub, dip into this sugary sweet treat. Scoop a generous handful and gently massage the scrub all over your body. Let those natural exfoliators do their work! Sit back and soak in our Signature fresh scent!
Let's face it! Get your Fruit Smoothie glow on from head to toe with a perfect finish. The Fruit Smoothie Facial Scrub is the cherry on top of this skin care sundae. Our facial scrub is one of our hidden gems. Infused with the bright, fruity Signature scent, this gentle exfoliator-and-cleanser-in-one is the perfect way to treat that beautiful face of yours! You already know we only use the best, vegan, SLS and paraben free ingredients. But this one is particularly extraordinary! Packed with easing camomile, uplifting St. John's Wort, and cranberry seeds, this special recipe maximizes the healing and easing skin care properties of each ingredient.
Squeeze a quarter-sized portion onto your hand, and gently apply the scrub to your face. This magical mixture slowly turns into a soapy goody while you massage it into your skin. This is such a fun tactile experience that will leave you looking, feeling, and smelling your best. Rinse! (And repeat every other day!)
Or just have a little fun. Grab the ice cream soap for the sweetest moment of your day!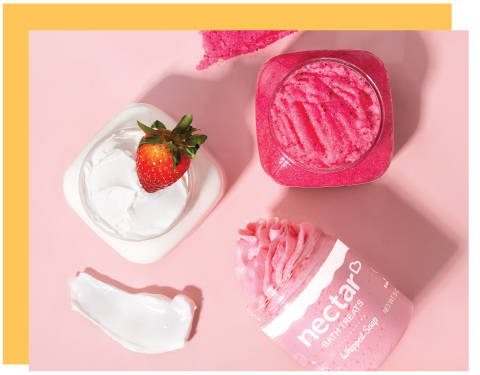 Top it all off!
It's time to moisturize! Nectar's Body Butter has a silky shea butter base and the finest skin loving avocado oil. Plus moisturizing apricot oil to help retain all of those nutrients! And with the Fruit Smoothie scent, this is the silkiest smoothiest way to hydrate your skin!
Even more treats to love anytime!
We didn't forget about Whipped Soap and neither should you. Keep it sink-side for the sweetest hand washing moment of every day. If you only have a minute, this Whipped Soap is the perfect way to bring some fun into your skin care routine! Be sure to indulge in this delightful, fluffy soap! Want to know a secret? Use in the shower for the creamiest shaving cream ever!
The Signature Fruit Smoothie Collection is the perfect way to fill up your routine with unique and fun products. At Nectar, it all starts with happiness. And you can feel it in every product! So choose joy and fill your routine and gift list with our Signature Fruit Smoothie Collection!