---
STRESS ERASER PENCIL BATH BOMB
Smells like a refreshing blend of sweet berry and crisp pear
Fragrance: Cranberry Pear Bellini
Ingredients: Sodium Bicarbonate, Citric Acid, Magnesium Sulfate, Parfum (Fragrance), Aqua (Water), Kaolin, Polysorbate 80, Prunus Dulcis (Album) Oil, Fluorphlogopite, Mica, Titanium Dioxide, Titanium Oxide, Iron Oxide, Tin Dioxide
3.6 oz / 102 g
TEACHER'S PET BATH BOMB
Smells like a crisp, juicy refreshment
Fragrance: Apple
Ingredients: Sodium Bicarbonate, Citric Acid, Parfum (Fragrance), Magnesium Sulfate, Prunus Amygdalus Dulcis (Sweet Almond) Oil, Kaolin, Aqua (Water), Polysorbate 80, Isopropyl Alcohol, Mica, Iron Oxide, Tin Dioxide, Titanium Dioxide
4.4 oz / 125 g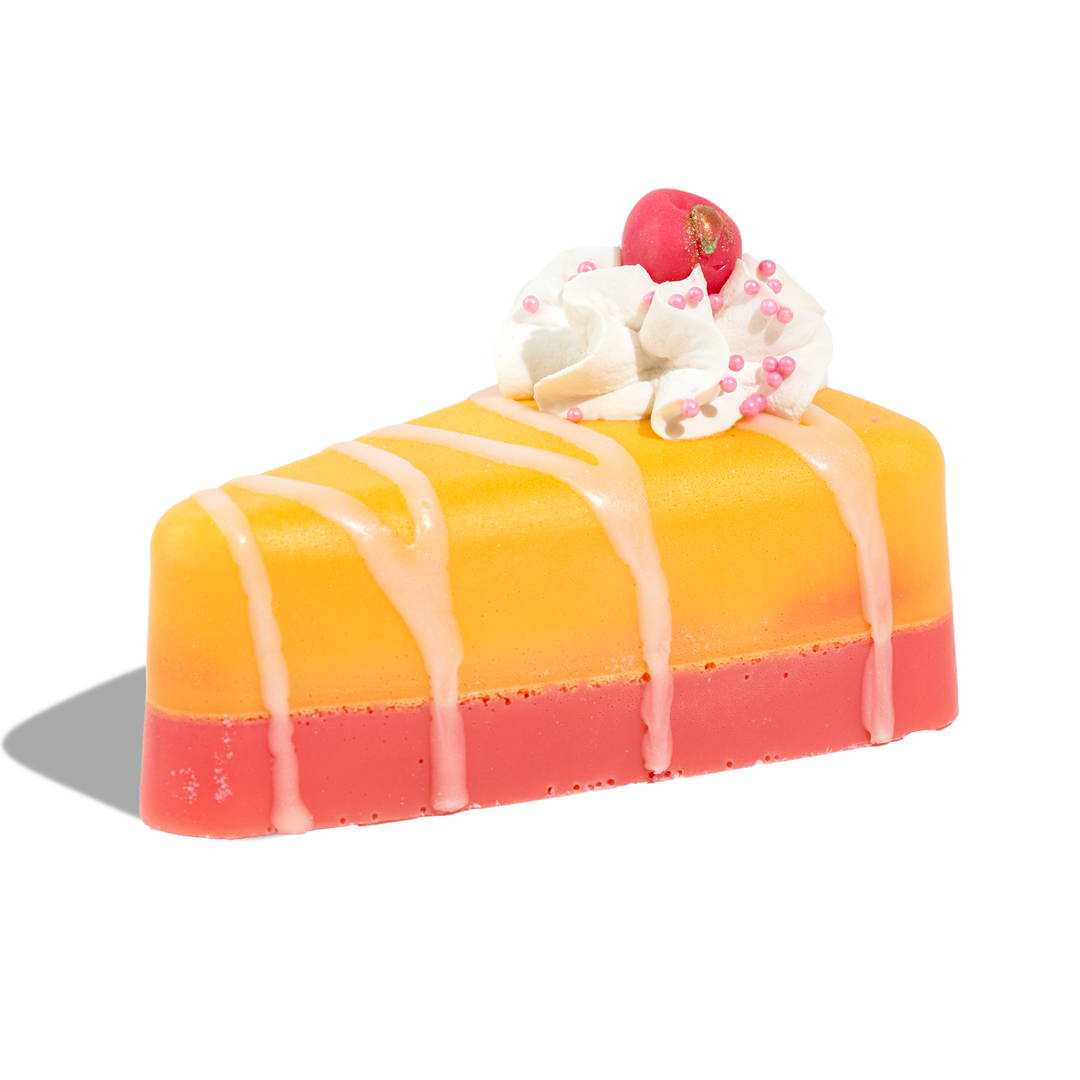 "EASY A" APPLE PIE SOAP
Smells like a refreshing blend of sweet berry and crisp pear
Fragrance: Cranberry Pear Bellini
Ingredients: Elaeis Guineensis (Palm) Kernel Oil, Cocos Nucifera (Coconut) Oil, Aqua (Water), Carthamus Tinctorius (Safflower) Seed Oil, Sodium Hydroxide, Fragrance, Glycerin, Propylene Glycol, Sorbitol, Sorbitan Oleate, Aveena Sativa (Oat) Kernel Protein, Isopropyl Alcohol, Sucrose, Dextrin, Tapioca Starch, Glucose Powder, Magnesium Silicate, Copernicia Prunifera (Carnauba) Wax, Acacia Senegal Gum, Red 3, Red 40, Fluorphlogopite, Mica, Titanium Dioxide, Iron Oxide, Manganese Violet, Tin Oxide++
5.4 oz / 153 g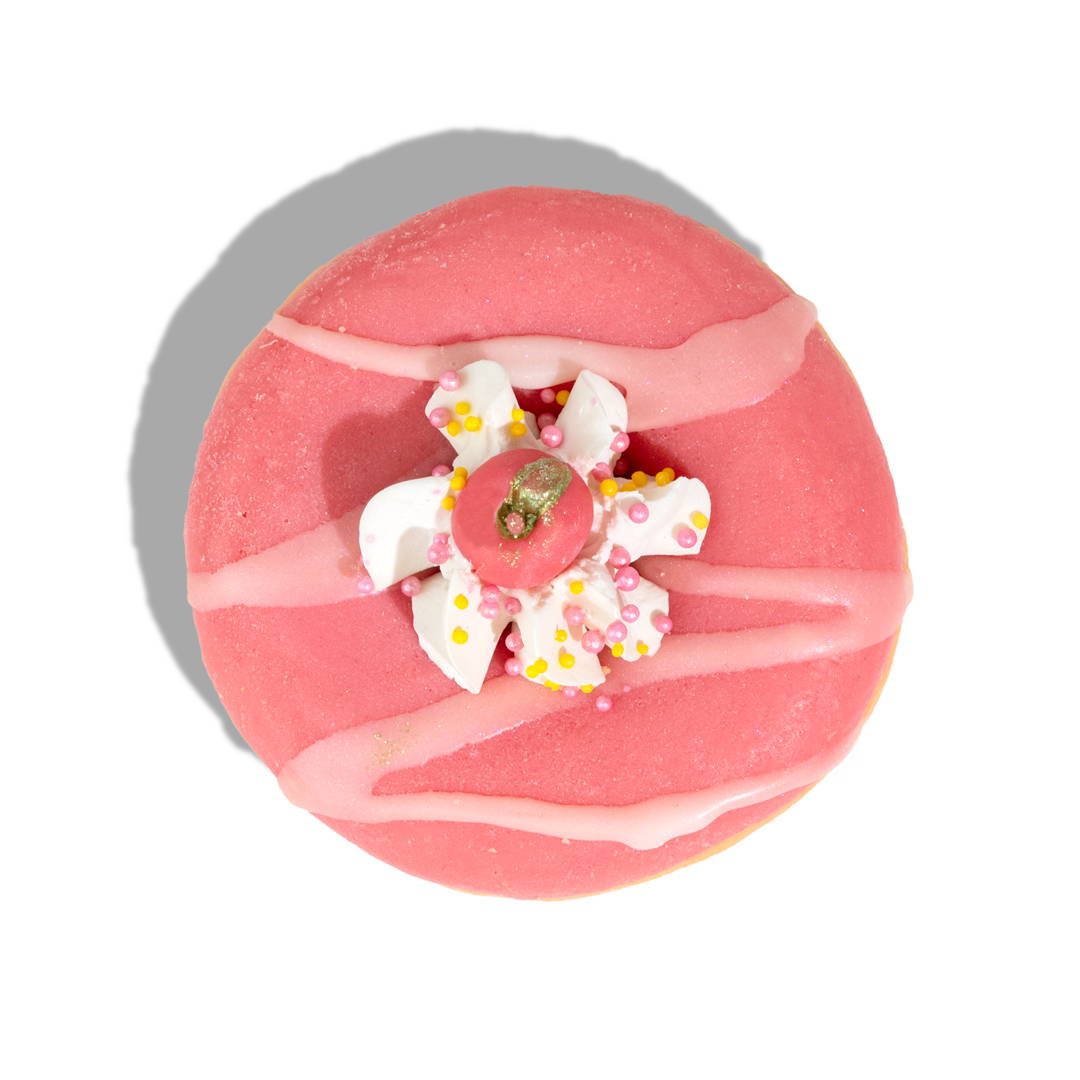 THE SWEETEST TEACHER DONUT SOAP
Smells like a crisp, juicy refreshment
Fragrance: Apple
Ingredients: Elaeis Guineensis (Palm) Kernel Oil, Cocos Nucifera (Coconut) Oil, Aqua (Water), Carthamus Tinctorius (Safflower) Seed Oil, Sodium Hydroxide, Glycerin, Propylene Glycol, Sorbitol, Sorbitan Oleate, Parfum (Fragrance), Aveena Sativa (Oat) Kernel Protein, Fluorphlogopite, Mica, Iron Oxide, Manganese Violet, Tin Dioxide, Titanium Dioxide
3.2 oz / 91 g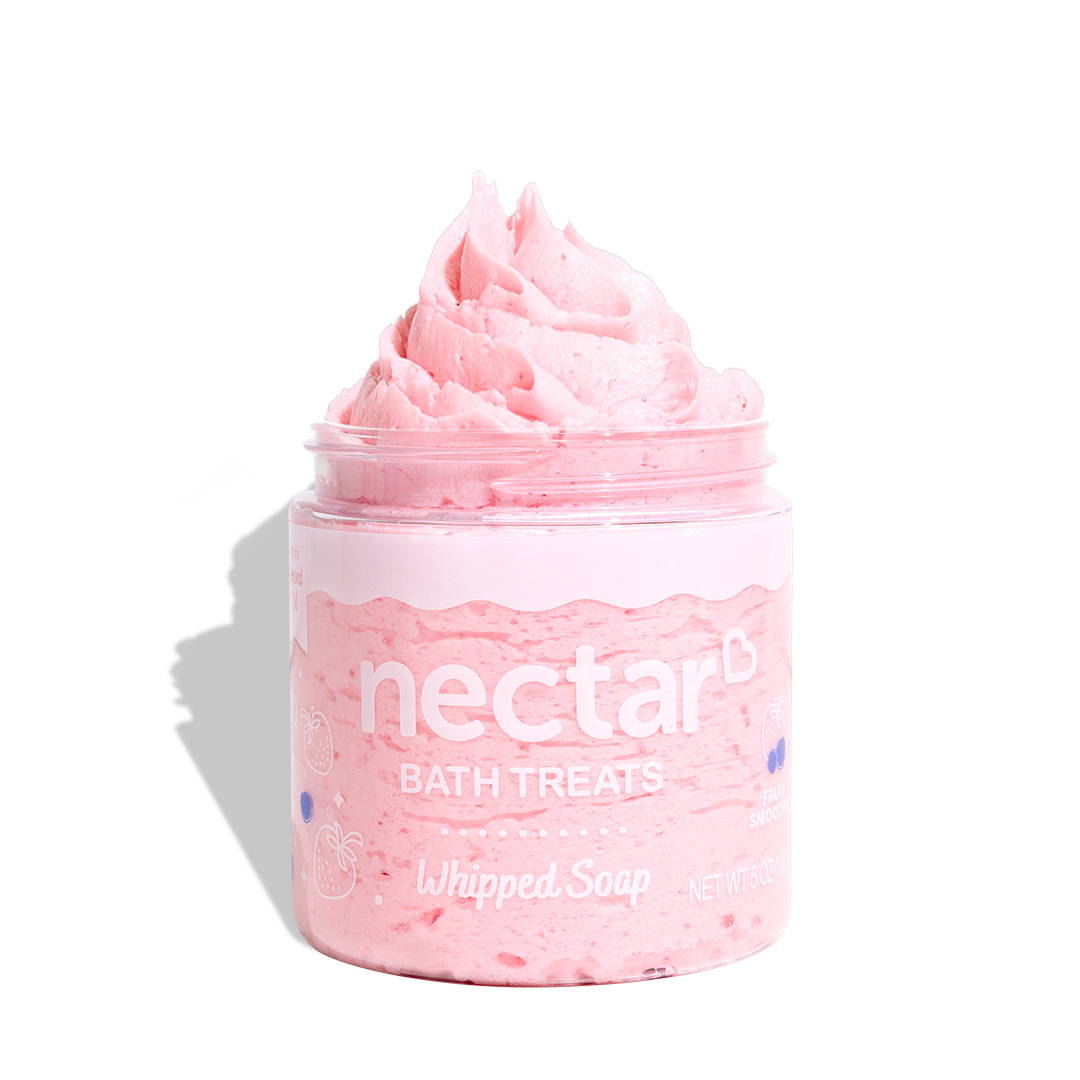 FRUIT SMOOTHIE WHIPPED SOAP
Smells like a strawberry, tangerine and melon inspired summer smoothie
Fragrance: Fruit Smoothie
Ingredients: Sodium Cocoyl Isethionate, Glycerin, Aqua (Water), Prunus Amygdalus Dulcis (Sweet Almond) Oil, Cocamidopropyl Betaine, Stearic Acid, Phenoxyethanol, Caprylyl Glycol, Parfum (Fragrance), Polysorbate 80, Tetrasodium Glutamate Diacetate, Mica, Titanium Dioxide, Iron Oxide++
5 oz / 142 g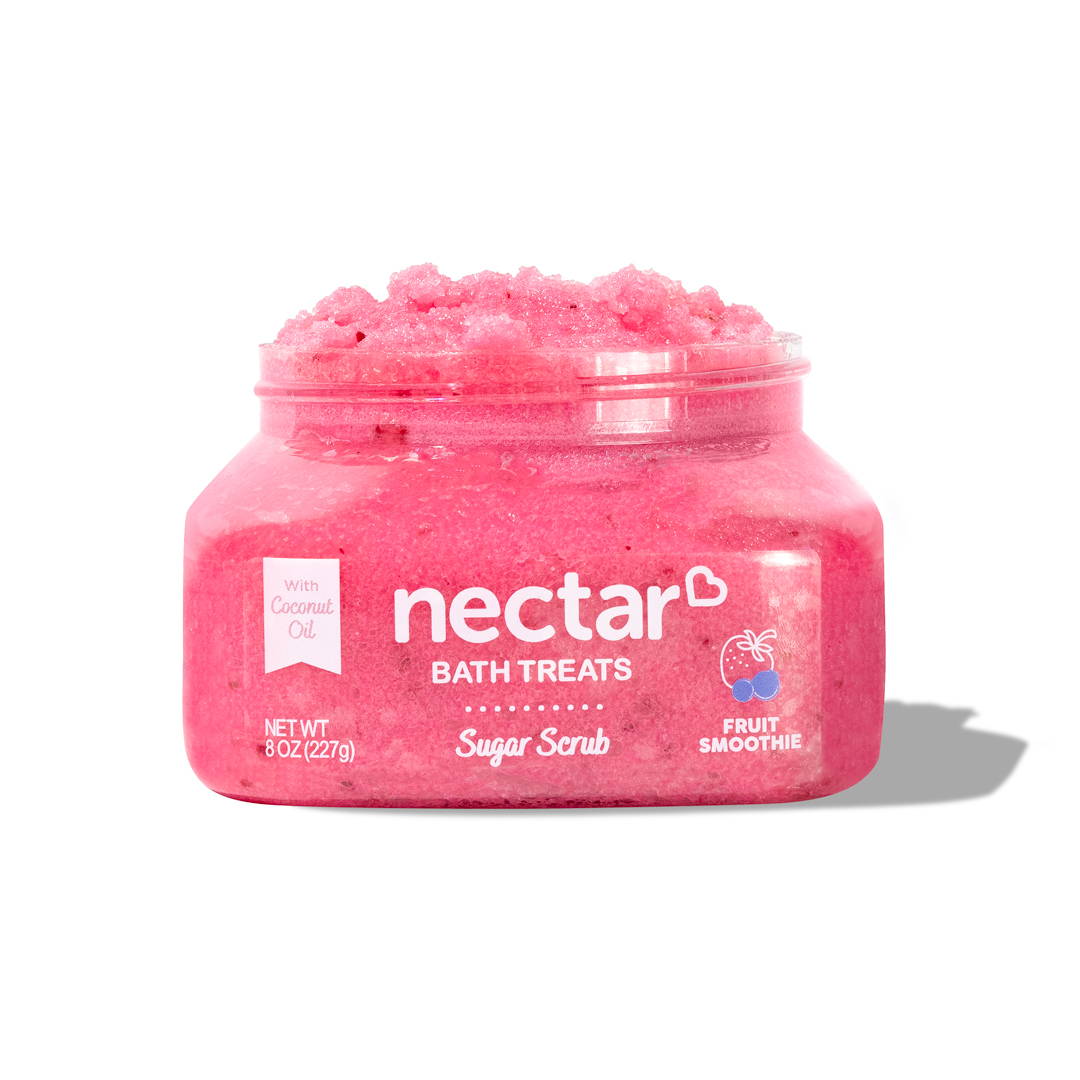 FRUIT SMOOTHIE BODY SCRUB
Smells like a strawberry, tangerine and melon inspired summer smoothie
Fragrance: Fruit Smoothie
Ingredients: Sucrose, Cocos Nucifera (Coconut) Oil, Butyrospermum Parkii (Shea Butter), Prunus Amygdalus Dulcis (Sweet Almond) Oil, Cetyl Alcohol, Fragrance (Parfum), Vaccinium Macrocarpon (Cranberry) Seed, Phenoxyethanol, Caprylyl Glycol, Emulsifying Wax NF, Mica, Titanium Dioxide, Iron Oxide, Manganese Violet+
8 oz / 227 g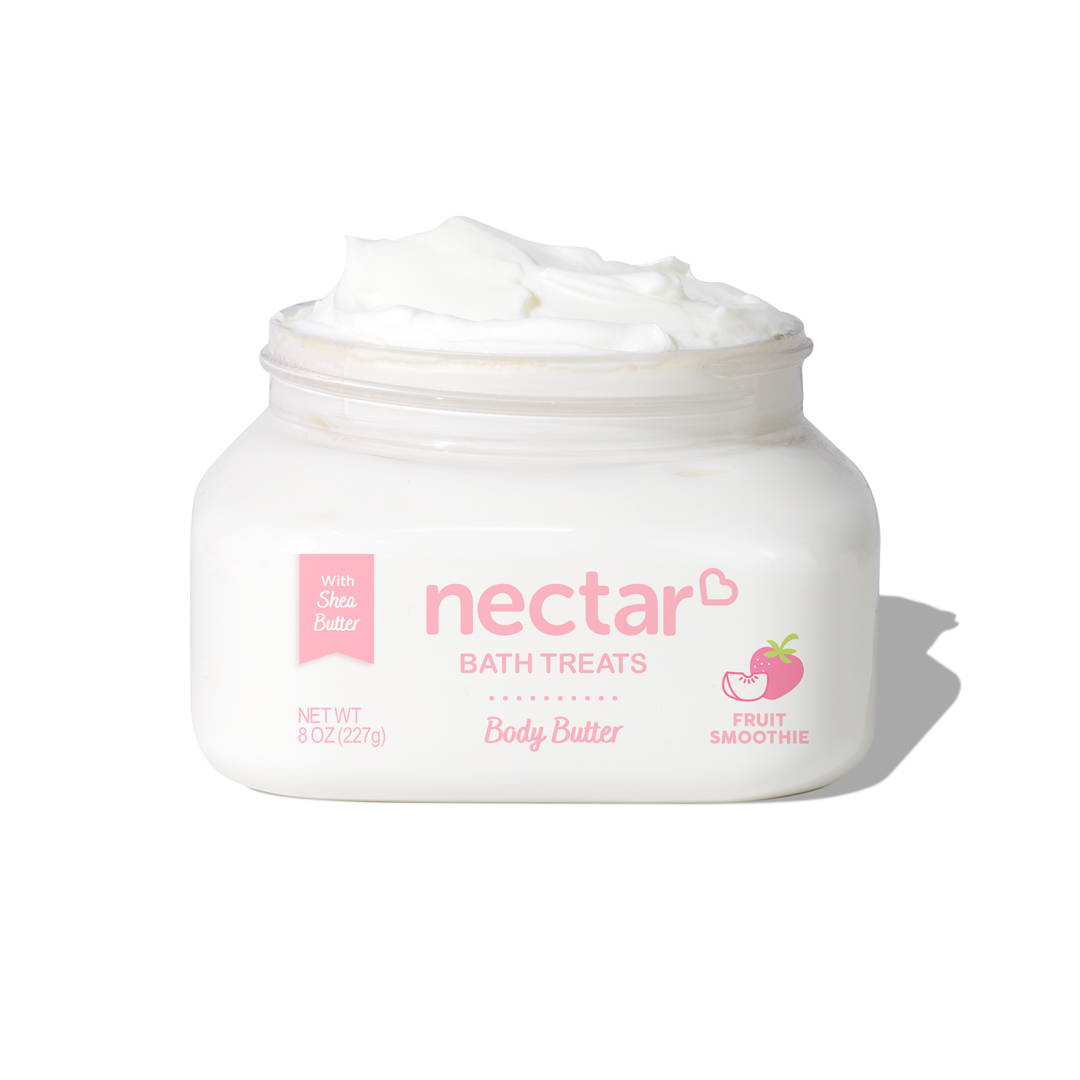 FRUIT SMOOTHIE BODY BUTTER
Smells like a strawberry, tangerine and melon inspired summer smoothie
Fragrance: Fruit Smoothie
Ingredients: Aqua (Water), Butyrospermum Parkii (Shea Butter), Persea Gratissima (Avocado) Oil, Prunus Armeniaca (Apricot) Kernel Oil, Emulsifying Wax NF, Stearic Acid, Cetyl Alcohol, Phenoxyethanol, Caprylyl Glycol, Benzyl Alcohol, Dehydroacetic Acid, Tocopheryl, Maranta Arundinacea (Arrowroot) Powder, Parfum (Fragrance), Carthamus Tinctorius (Safflower) Seed Oil
8 oz / 227 g
Bath Bombs: Place bath bomb into warm water and enjoy the relaxing experience of a fun, fragrant bath!
Soap Treats: Rub and scrub your soap treat with a loofah or between wet hands, creating a rich and creamy lather. Use the lather from head to toe. Rinse.
Whipped Soap: Create a creamy, bubbly lather by massaging soap between wet hands or loofah. Apply to wet skin, wash with warm water, and rinse clean.
Sugar Body Scrub: Scrub a generous amount onto skin, wet or dry! Rinse with warm water. Pat dry & apply your favorite moisturizer. Use 1-2 times a week. Store in a cool, dry place.
Body Butter: After a bath or shower, massage into dry skin to absorb the nourishing goodness.

Caution: For external use only. Discontinue use if irritation occurs. Do not eat.