---
Our beloved customers have been begging for a body scrub that mimics our wildly popular cleanse your soul bath bomb, so we've delivered! Scented beautifully with Egyptian musk and cool water, this refreshing scrub will make your skin feel amazing. It's brimming with all your favorite scrub highlights like shea butter, sweet almond oil and fresh poppy seeds for added exfoliation!
Natural Exfoliants: Sugar, Poppy Seeds
Net Wt. 8 oz
Ingredients: Sucrose, Cocos Nucifera (Coconut) Oil, Butyrospermum Parkii (Shea) Butter, Prunus Amygdalus Dulcis (Sweet Almond) Oil, Cetyl Alcohol, Fragrance, Phenoxyethanol, Caprylyl Glycol, Emulsifying Wax NF, Papaver Somniferum (Poppy) Seeds, Mica, Titanium Dioxide, Tin Oxide, Ultramarine Blue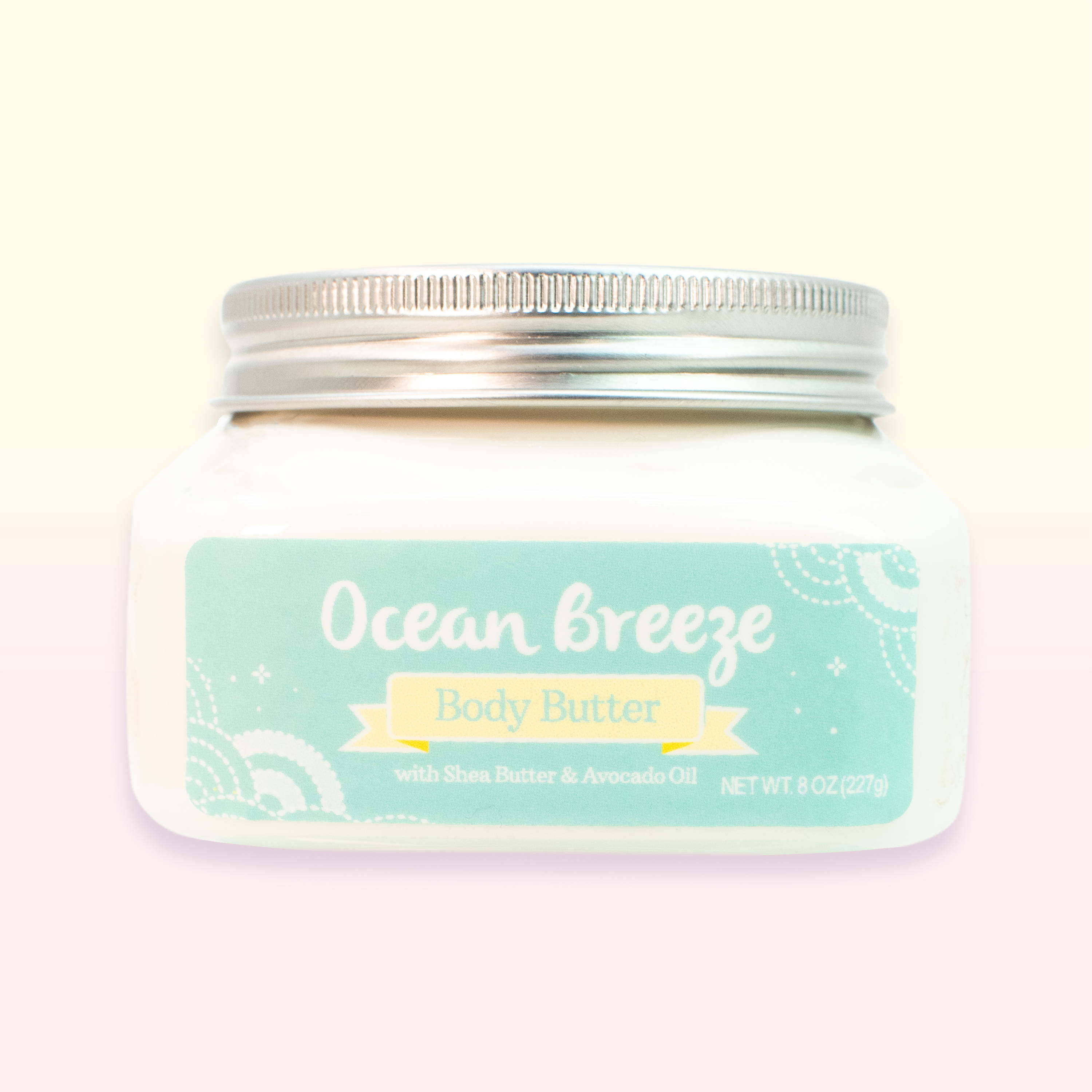 Brimming with nourishing avocado oil, moisturizing shea butter and apricot kernel oil, your skin will feel better than ever after using our nourishing body butter!
Net Wt. 8 oz
Ingredients: Water (Aqua), Butyrospermum Parkii (Shea Butter), Persea Gratissima (Avocado) Oil, Prunus Armeniaca (Apricot) Kernel Oil, Emulsifying Wax NF, Stearic Acid, Cetyl Alcohol, Phenoxyethanol, Caprylyl Glycol, Benzylalcohol, Dehydroacetic Acid, Tocopheryl, Fragrance, Maranta Arundinacea (Arrowroot) Powder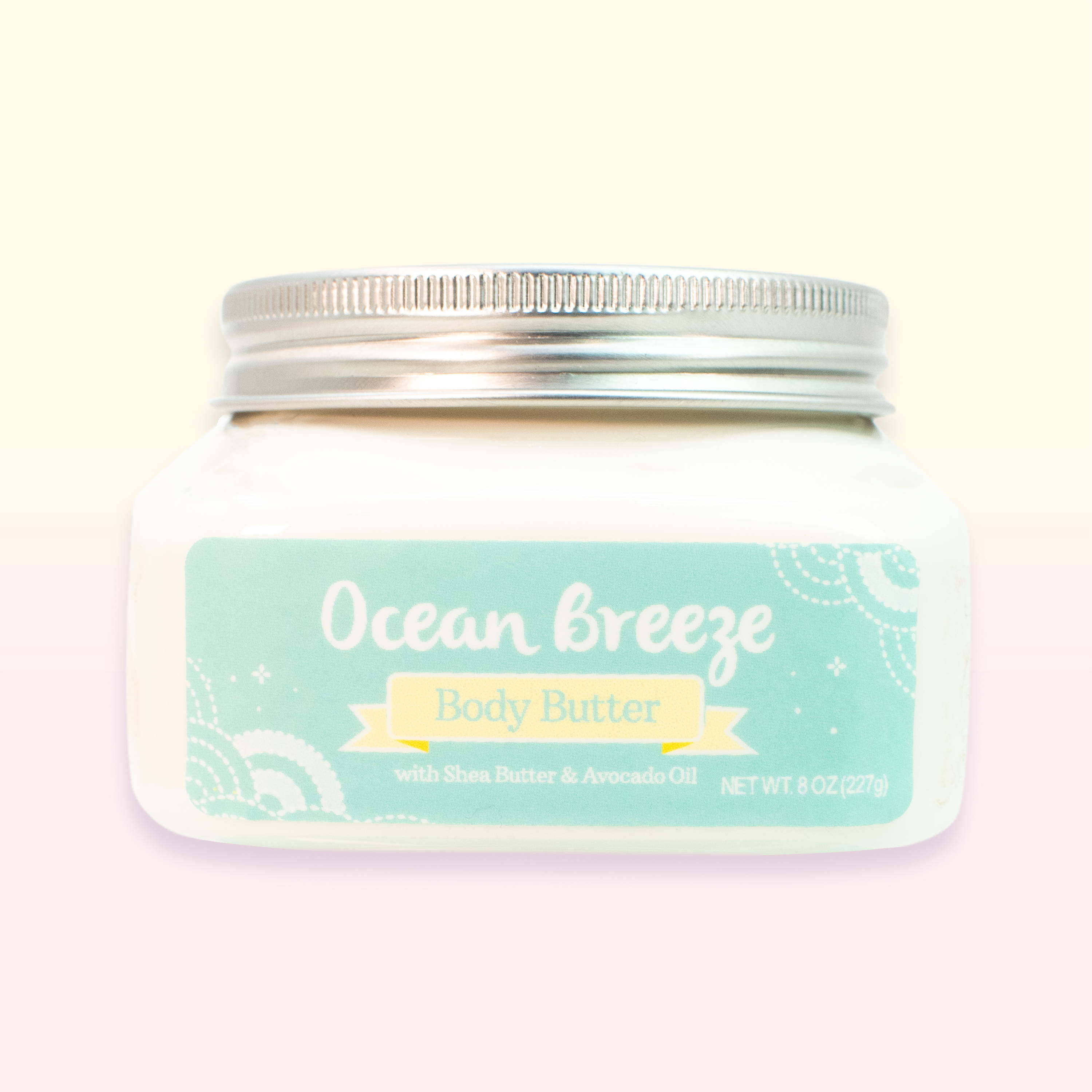 Ocean Breeze Foaming Bath Bomb

Treat yourself to a swirling, foamy blue bath experience and leave the stress of your day behind with our new Ocean Breeze foaming bath bombs.
Each is scented a blend of Egyptian white musk and cool water for a foaming bath that leaves you smelling oh so clean.
Each foaming, slow release bath bomb is brimming with:
Epsom Salts: Each luxurious bath bomb is packed with these stress relieving crystals perfect for a relaxing night in.
Kaolin Clay: This detoxifying and soothing clay, mined for centuries from Kao-ling mountain in China is a powerhouse when it comes to beautiful skin. Not only is it incredible at absorbing excess oils from the skin, it also is a pore cleansing machine!
Safflower Oil: Pressed from fresh safflower seeds, this oil is jam packed with antioxidant rich Vitamin E which helps attack free radicals and give her skin the glowing look she deserves.
Customer Reviews
Write a Review
Ask a Question
07/09/2021
LeAnne

US
Pleased as punch with this one! :purple_heart:
This gift set is a must buy! Anyone would love to recieve one of these, or gift to themselves lol. :stuck_out_tongue_winking_eye: I had never tried the ocean breeze scent till now, but boy I'm glad I did! Smells wonderful!
07/11/2021
Nectar Bath Treats
Hi LeAnne, Thank you so much for trying our our Ocean Breeze Pure Bliss Gift Set :smile: We're so glad that you love the scent and we can't wait for you to try out some of our other Ocean Breeze scented items :ocean:
06/07/2021
Kayla S.

US
Amazing gift...
This set is quite a good value compared to purchasing each item separately. The ocean breeze scent it my absolute favorite so it was such a great find for me.
06/10/2021
Nectar Bath Treats
Hi Kayla, We're delighted to hear that you were impressed by the value of this gift set and that you love the Ocean Breeze scent! Thank you so much for your amazing review :heart_eyes:
01/01/2021
Lauren S.

US
Great gift!
I got this set for my sister in law for Christmas and she LOVED it! She was so pleased with the amazing smell and the beautiful packaging. She can't wait to use everything!
01/03/2021
Nectar Bath Treats
Hi Lauren, We're thrilled to hear that your sister-in-law loved her Ocean Breeze Pure Bliss Gift Set! Thank you so much for spreading the Nectar love :blue_heart: